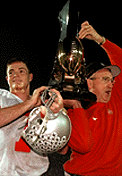 ---
The BEST Fantasy Football Players have visited this site

times.
---

The site is a member the Fantasy Football Web Ring.  
Use the graphic below to see other Fantasy sites.

Great Draft night!!!  I think all teams seemed to enjoy the 
new auction style draft.  Only time will tell if your picks 
were worth what you paid for.

Several pages are up and running including:
    Fantasy Rosters, Schedule and  Point Spread.
 
Line-ups are due this week only by 12:30 Sunday Morning  

Come back to this site for STANDINGS, ROSTER MOVES AND GAME RESULTS.


Yours in Fantasy,
The Commish

---
The BEST Fantasy Football Players have visited this site

times.
---